Buses
There are regular bus services to and from Nuweiba, in all directions!
East Delta Travel Company provides services to Taba, Dahab, Sharm el Sheikh and Cairo; whereas Bedouin Bus has a twice weekly service to St. Catherine. Time schedules below.
East Delta Travel Company (time table provided by East Delta, November 2011):
| | | | | | |
| --- | --- | --- | --- | --- | --- |
| Taba | Nuweiba | 12:30 pm | 3:00 pm | 4:30 pm | 25LE |
| Nuweiba | Taba | 9:00 am | 12:00 noon | 3:00 pm | 25LE |
| Nuweiba | Dahab | 6:30 am | 4:00 pm | | 11 LE |
| Dahab | Nuweiba | 10:30 am | 6:30 pm | | 11 LE |
| Dahab | Taba | 10:30 am | | | 25 LE |
| Cairo | Taba / Nuweiba | 6:00 am | 9:30 am | 11:30 pm* | 70 / 90* LE |
From Dahab there are regular buses to Sharm el Sheikh and Cairo. The Nuweiba-Dahab bus from 6.30am and 4pm goes on to Sharm el Sheikh. East Delta buses stop at the East Delta bus terminal in the Port area and at Nuweiba Hospital at the Taba-Dahab road, close to Nuweiba CIty.
Bedouin Bus (Nuweiba - St. Catherine)
Bedouin Bus runs minibus services every Wednesday and Sunday between Nuweiba and St. Catherine. Distance between the two towns is approximately 120km (or nearly 75 miles). The journey will take roughly 2 hours and costs 50LE per person.
There are two bus stops in the Nuweiba region:
+ Nuweiba Hospital bus-stop (20 minute walk to Tarabin and City) Departure: 2 pm
+ Port of Nuweiba: opposite the East Delta bus station @ Hotel Marinta
(short taxi ride to Dunes and City) Departure: 2.30 pm
Bus stop in St. Catherine is in the town centre, opposite the mosque and next to the bakery (short walk to several camps in town). Departure: 8 am
Tip: from Nuweiba to St. Catherine on a Tuesday or Friday? Take the 4pm East Delta bus from Nuweiba to Dahab; get out at the turn-off to St. Catherine (main check point, 27km after Nuweiba port) and wait for the 5pm Bedouin Bus from Dahab. We'll be there around 6! Give us a call so we won't miss you!
Please note:
Bedouin Bus originates in St. Catherine and buses will therefore start and finish in St. Catherine. If you jump on one of our buses in Nuweiba, you can't come back to Nuweiba in one day! And Bedouin Bus is only running twice weekly services on Wednesday and Sunday. You might want to consider Bedouin Bus as a one way option; take a taxi for the second leg or use the Dahab Bedouin Bus on Tuesday and Friday to make a South Sinai loop...
Don't forget to bring your passport !
Although a Sinai visa is sufficient to visit St. Catherine, military check points along the way might ask you for your passport. Please bring it along!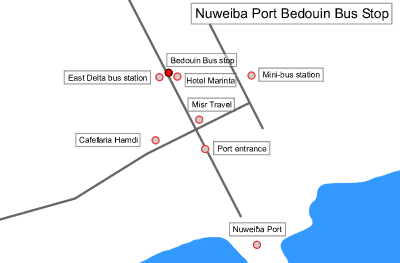 About Bedouin Bus: Bedouin Bus is a community project, providing affordable transport options between St. Catherine and Sinai's east coast. Bedouin Bus doesn't look for profit as a primary goal, it is there to provide a service. Surplus from ticket sales and sponsoring will be retained by Bedouin Bus for its self-preservation, expansion, or other plans like helping out in other community projects in South Sinai. We see ourselves as an informal not-for-profit organisation with a broad community support.
Bedouin Bus also runs bus services from St. Catherine to Dahab and back. Every Tuesday and Friday! Check out the Bedouin Bus website for more details.