Nuweiba tourism and travel information.
All your accommodation in one spot; reliable, independent, free and up-to-date advice!
Lay back and relax...
What beter way to take in the tranquil surroundings of Nuweiba, than from beach chair on a sandy strip of land overlooking the cristal clear waters of the Gulf of Aqaba...
NuweibaBeach.com is an overview of all the camps, hotels, guesthouses, b&b's, bungalows, huts, campings and other accommodation in the beautiful Nuweiba and Taba region. Conveniently arranged by beach area (top navigation) and alphabetically by name (right navigation).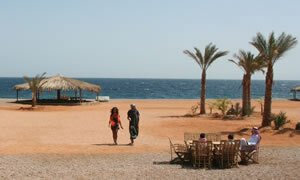 Including GoogleMaps, price indications, transport options and much, much more. Wander around in the Nuweiba online world & when you've decided where you'd like to stay, come and join us at the beach !